Excursions
Plenty to do....
In the area of Villa Pesce there is plenty to do, depending on your needs and interests. Just for orientation let us show you some ideas and tips.
| | |
| --- | --- |
| | Acqui Terme: already in Roman times the place was known for its 75 degree warm sulfur springs and its thermal bath. A lovely historic village with a pedestrians only centre that has been nicely renovated to capture the ancient soul with the living Italian heart. Only 20 minutes from Mombaruzzo a well worth excursion be it in the evening or for the day. |
| Asti : provincial capitol with a historical, partly pedestrians only town center, an ideal place to enjoy and explore. Known for the Palio horse race with period costumes that takes place every year on the 3rd Sunday of September. Every Saturday you can enjoy the local market with the freshest home produce or meat, ham, olive oil, vegetables, mushrooms and whatever else you can think of. Asti is located about 25 minutes from Mombaruzzo. | |
| | Nizza Monferrato is located 15 minutes from Mombaruzzo only. The centre is embracing the large village square , where every 3rd Sunday you can treasure hunt at the local antique market. And obviously you will also find a regional Oenothek. |
| Alba : Probably the most famous city in the area, the origin of the Slow Food movement (eat only fresh ingredients prepared the traditional way) and is known for wines such as Barolo, its truffle fair and the Ferrero chocolate . Approximately 45 minutes from Mombaruzzo and the vibrant market on Saturday is well worth a visit. | |
| | The port city of Genoa is the provincial capital of Liguria famous for its cuisine (pesto) and Tromp oeuil architecture. The sea and the maritime influence is obvious, the city is long and narrow, situated on the shores of the sea. Beautiful old city, with newly designed port, few parking places. In 1 hour away by car, slightly longer by train (change at Acqui). |
Of course, then other cities such as Turin (1 hour) , Milan (1 hour) or Gavi (30 minutes) and many more are mentioned. As a small suggestion, we leave it here.
Geniessen Sie die Natur und de Sicht
The area is ideal for walks . Enjoy the wonderful panoramic views and the nature . All pictures here were taken less than 15 minutes walking distance from Villa Pesce!
There are not yet many marked ways!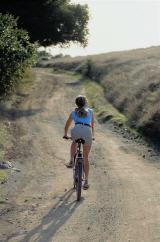 Also cycling fans come to Mombaruzzo. Roads with little traffic and beautiful views. Do not forget the hills and slopes. ..
The Ligurian Sea is just a good hour drive from Mombaruzzo. A wide variety of picturesque locations are at your feet:
- Portofino peninsula southwest of Genoa with the unique cliffs and picturesque towns such as Portofino and Camogli
- Cinque Terre (ideally by train)
- The coast from Genoa to Savona, next to the Blumenrivirea with beautiful beach resorts, some with sandy beach.
Do you want a private cooking class? No problem, of course we can help you. You need to decide if you prefer the " Casa Linga "- more like housewife-style , or rather as in a restaurant. Also do you prefer Piedmont recipes (such Brasato, torta verde torta nocciola etc.) or recipes Ligurian (pesto alla genovese, etc.) And of course if you have a favourite dish that you want the recipe of...here we come. And in the end, the food you prepared you can share with your local chef - if you wish. Guarantees an unforgettable afternoon and evening!
Wine is good here . The most important DOC and DOCG in the region are varieties Barbera, Barbera Superiore, Dolcetto and Moscato for red wine, Cortese and Chardonnay for white wine, Moscato, Asti Spumante, Chardonnay, Brachetto for sparkling varieties.
You can taste and you can buy wine in many places. At the Regional Enoteca in Acqui Terme and Nizza Monferrato, in the Cantina Sociale of Mombaruzzo, Fontanile and many more, or directly from wine producers as Picco Macario, and Cascina Basalone in Mombaruzzo and of course the restaurants .
| | |
| --- | --- |
| | Keen to visit local markets ? Wednesday and Fridays in Acqui Therme, Fridays in Nice. Thursdays and Saturdasy smaller market in the village. Attention! All markets close at 12.30. |
| Large Designer Outlet in Sera Valle with a large selection of brands. Approximately 30 minutes from Mombaruzzo. | |
| | On weekends, there are numerous antique and flea markets to go on a small treasure hunt. Quite Italian, see and be seen. First Sunday of the month in Acqui, third Sunday in Nizza Monferrato, and on the fourth Sunday in Casale Monferrato. |
| In October and November there are the truffle markets , the most famous one takes place in Alba. The legendary white truffle prices are always depending on availability, quality and size. And there are all sorts of products prepared with truffles - some of them you have never even dreamt of... | |